Much more than weight loss on her fitness journey
We're so excited to share the Jessica's story with you as our Member of the Month!
When we met Jessica in January, she was a stay at home mom suffering from depression and high blood pressure. She was tired all the time and never had any energy, but couldn't fall asleep on her own so was on a sleep aid. Her doctor was also contemplating putting her on additional medications to manage her blood pressure. She wasn't exercising, though she had been physically active in the past and even 5 years ago was an avid runner.
"Doing everyday things was a struggle. I didn't recognize the person in the mirror, and I was tired of hating myself," she shared. She happened to see the reFORM Studios page on Facebook, and since she admits she knew her weight wouldn't change until she made changes, and it was only going to get harder after turning 30, she reached out. "My sister has a wedding coming up in September and I figured I'm not getting any younger, so it's now or never!"
When we first chatted, Jessica shared that her goal is to be strong and healthy. She wants to lose weight, but not to a specific number. What she really wanted was to just be able to do things she loves without getting winded. "I want to run races, chase my kids, and enjoy exercise like I did before."
She had a pretty powerful motivator to finally make some change. "I don't want my kids to grow up not making memories with me because I hid because of my weight. Which is exactly what I have done, hide. I haven't lived the last five years. I have not done tons of things I wanted to because I was uncomfortable, I haven't wanted to take family pictures because this isn't the way I want to be remembered."
She also shared that she had a lot of personal demons to battle, from her depression to her sugar addiction. "I would binge eat sweets at night and instantly regret it, but kept doing it because I was using food as a band-aid for my emotions." She wanted to learn how to have a good relationship with food.
Her struggles really began 5 years ago, and she remembers the moment of buying her first pair of size 18 jeans. She felt stuck because so much of her life revolved around activities centered on food and alcohol. She worried she wouldn't fit in if she made lifestyle change. She was also really afraid of not being able to achieve her ultimate goal because the scale of the weight she wanted to lose was so much more than she read about in magazines. "I felt like those people were different than me, and that I couldn't achieve those things."
She had tried weight watchers, and saw a weight loss doctor who recommended an unsustainable 1200 calorie diet and prescribed phentermine, an appetite suppressant. Nothing worked for her.
Turning point

So when she made the decision to start here in January, she said she was focused on trying to enjoy the process because she planned on doing this the rest of her life, weight loss was just part of her journey. She's also been focusing on celebrating non scale victories. "Devices can't measure how I feel!"
In the beginning, she admits "Everything was hard! Simple things were hard! My belly was in the way, my workout clothes didn't fit right, it was eye opening for sure and embarrassing." But she kept at it, because she got the feeling that everyone at the studio was just as invested in her journey as she was. "They care about my success, are always there to help or answer questions, and that the classes were small so I wasn't just a number.
Her biggest challenge as she began her program was letting go of having to be perfect. "Moderation has always been difficult for me. I'm either on the straight and narrow, or "YOLO". Life isn't like that. I've learned it's ok to enjoy myself on planned nights of off plan eating, or have a weak moment where I've binged chocolate, I'm human. We are what we consistently do, and I consistently eat more healthy than unhealthy." She's also been learning to tame her sweet tooth with healthier alternatives, and learned how to eat out but make better choices so she doesn't lose out on having a social life. "Tacos for the win!"
Changing her habits wasn't easy, but she says she made one key mindset shift that made a huge difference: making herself a priority. "I kept reminding myself why this was so important, and knowing that until I changed the formula, the result would always be the same. At the end of the day, I wasn't happy where I was."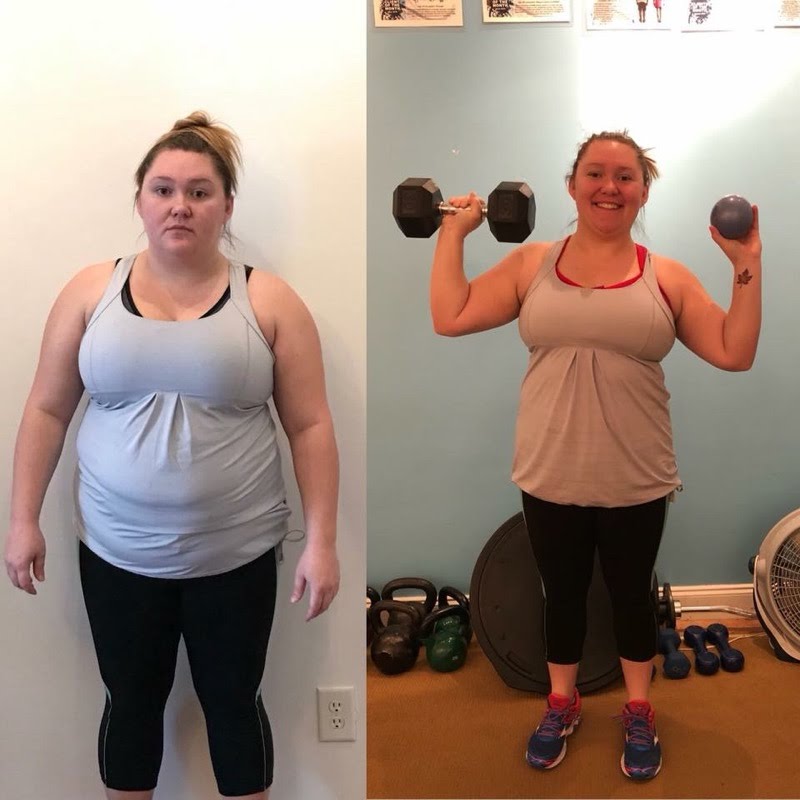 A new outlook on the future

Fast forward 4 months- Jessica has lost 40 lbs, but the changes go way beyond the scale! She can crush burpees now, and also can run for 30 minutes straight! Her blood pressure is back in a normal range, and she's considered in remission for her depression!
It's also changed her outlook on how she sees herself. "I'm not just a mom and wife. I had forgot how to want things for myself, now I am working on my personal training certification, in the hopes of helping other people like me." She's already become a ringleader within our studio community, educating herself on healthy eating and nutrition and sharing her recipes, meal planning and encouragement in our group.
She shares that she's a much happier person and feels like she has something to look forward to again.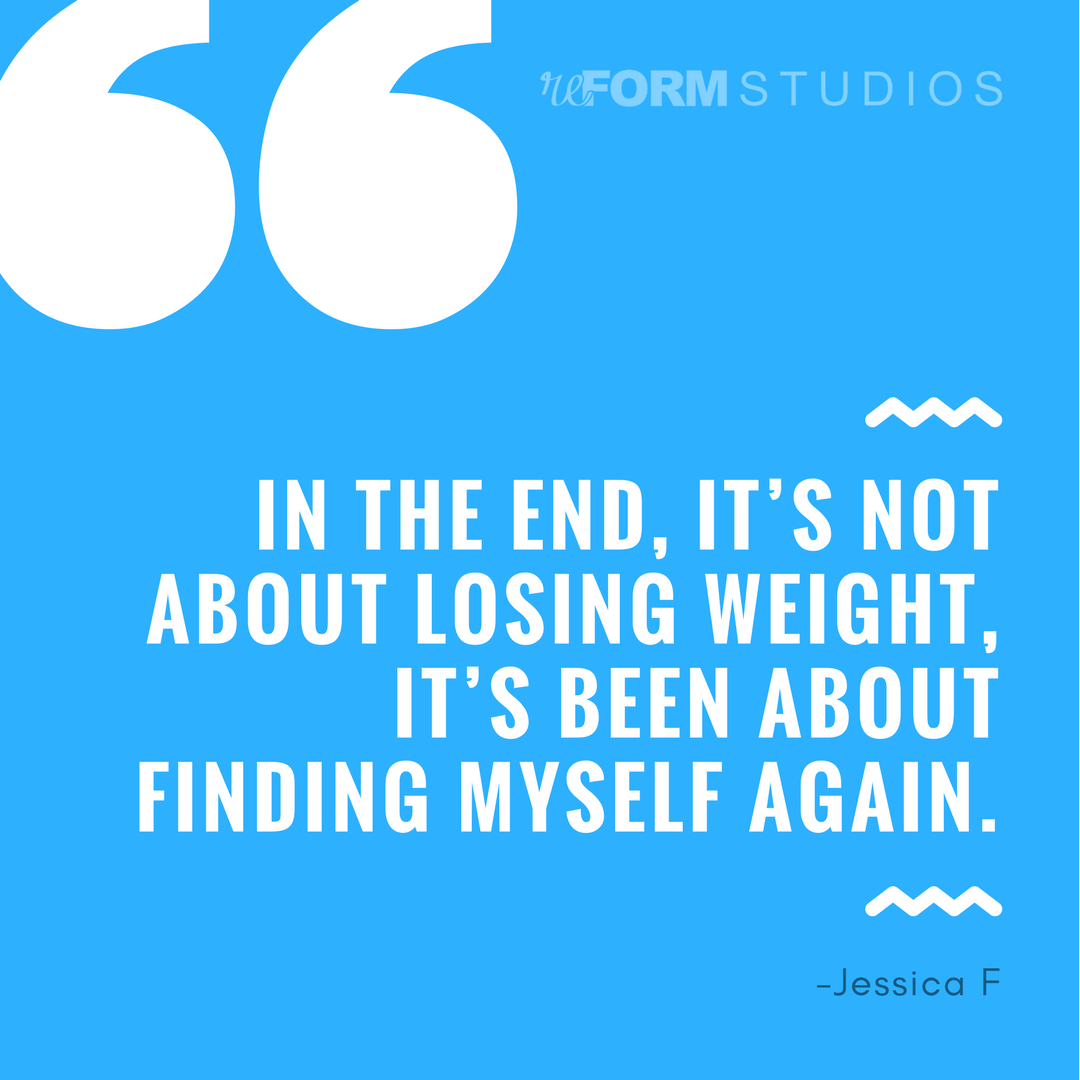 "In the end, it's not about losing weight, it's been about finding myself again. I will guard this part of me for the rest of my life. I never want to lose it again, and at the end of the day, it's my choice."
She's glad she stumbled across that Facebook post and made the call to change her life. She admits that if she could have done it alone, she would have done it 5 years ago.
To anyone else dealing with health and fitness challenges or struggles, Jessica has these words of encouragement:
"You have the power to change your lives. It's as simple as one meal at a time, one swap, one change, and showing up for your workouts. It's more about dedication than motivation and you need to show up for yourself.
No one else can save you, but you. Those people who go through these amazing weight loss stories are no different than you or me. They just showed up and were willing to learn. Also, it gets easier, and if you're consistent, it happens pretty quickly! So keep moving!!!"
Congratulations on your amazing journey Jessica, and you're already inspiring so many people! We can't wait to see where you take this amazing journey from here and how you use your experiences to help others!