Taking back power over her body.
The April you meet today is a stronger, more confident, more empowered woman than the one who walked through our doors a year ago. The journey to where she is now is just a part of her story, which will continue on, but we're excited to share the difference a year has made for her!
April works in a local hospital in a role that has her at a desk on a computer all day, and before we met her, her home life was similar- spent gaming on a computer screen or sitting around. "I mostly sat around doing a lot of nothing and feeling sad I had no energy for anything else." She wasn't exercising at all. She had a gym membership, but says losing $30 per month wasn't enough encouragement to her to show up and do the work.
She had goal to lose weight and make some major change to her body, and had tried 'everything!' in the past. She worked with the weight loss centers and their 'magical' shots of B12, and had worked with no less than 8 personal trainers before. "I kept signing up for personal training at different big named gyms, and they would just pass me from trainer to trainer and it was so discouraging I stopped going even though I was still paying for my sessions. I have tried every diet that could ever be found online and none of them were something I could live with for life.' Nothing was working for her.
And then she had a wake up call while on vacation in Bryce Canyon. "My husband and I were hiking up a canyon when a park ranger told us a snow was coming in and they were warning people to get off the trail and get someplace warm because the temperature was going to drop. As the wind picked up and the snow started coming down, I was so exhausted trying to get up the trail I had to keep stopping to catch my breath. A dozen people passed us, and I couldn't even make it to a single trail switchback without stopping to rest. It was painful, it was embarrassing and I was scared by how cold it was getting and how much snow was staring to pile up on me and there was nothing I could do about it. It was the first time I truly felt helpless in my own body and that is what made me reach out for help."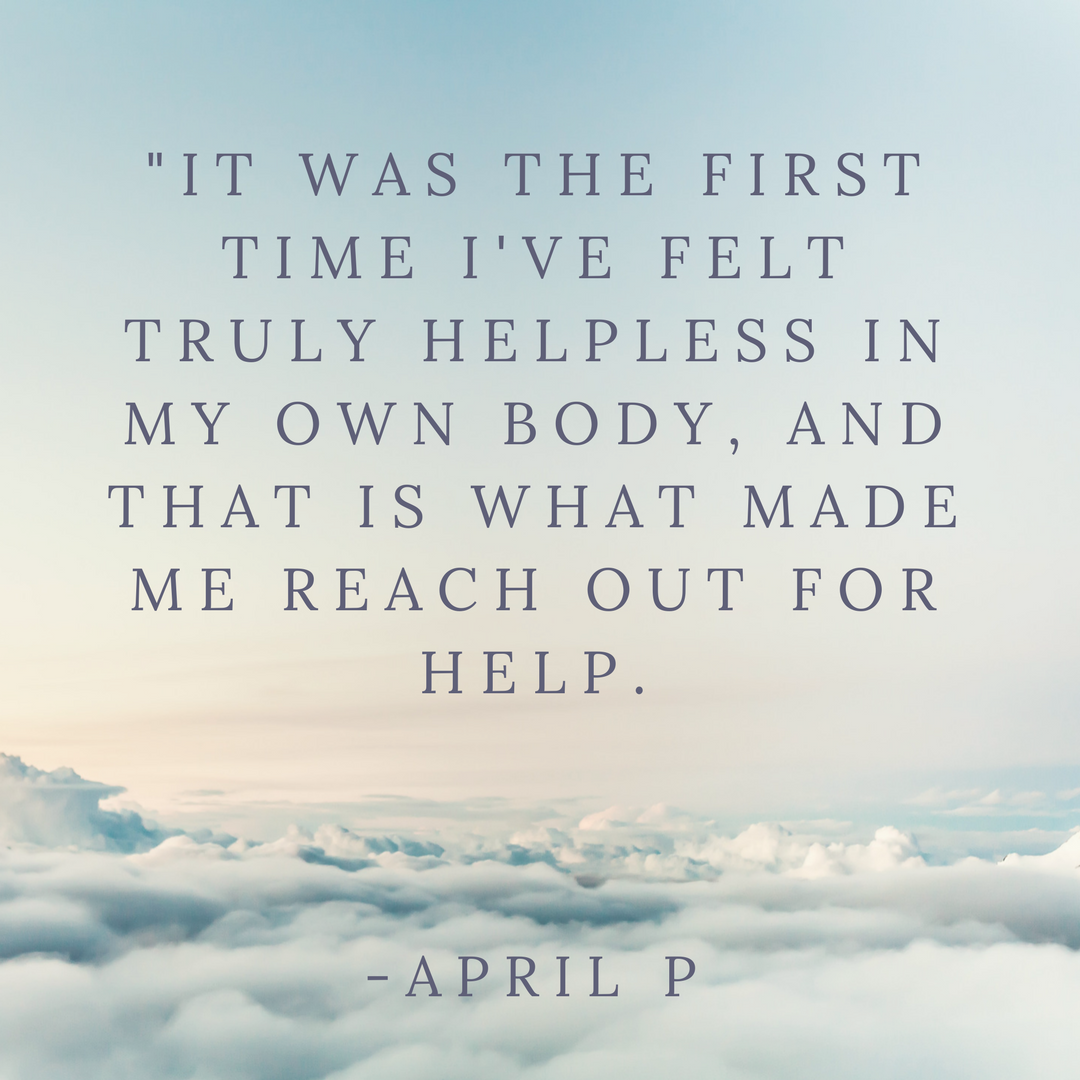 April says her goal was to lose weight and gain energy, and it was so important to her at this point that she and her husband sat down to make a budget so that she could invest in herself and make this a year of real change.
She was still nervous about setting goals, because she was afraid of not hitting them due to past failures, and was also afraid of making that investment in herself because it always seemed too much. "Picking a goal is very scary for me. I always hear in the back of my mind 'What if you voice this goal and fail? People will know you are failure.' Which if someone else said that to you, you would tell them they were being ridiculous. Yet, we can always say it to ourselves."
Luckily, April was determined this time around and discovered reFORM Studios online. After doing a bit of research, she and her husband Josh both came in for a consultation.
This time around, she says she was really committed. Based on their budgeting, April made the decision to join for 12 months, knowing that if she just committed to 6 weeks or 3 months she would repeat the same stop and start failures of her past and lapse back into old habits. And she really wanted to get to that 'mythical place' where she'd heard people say their bodies actually craved exercise, because she had never experienced that in her life.
April started out with private personal training and then transitioned to our semi-private personal training, and she's quickly become recognized as a veteran member and role model for our community.
The Difference a Year Can Make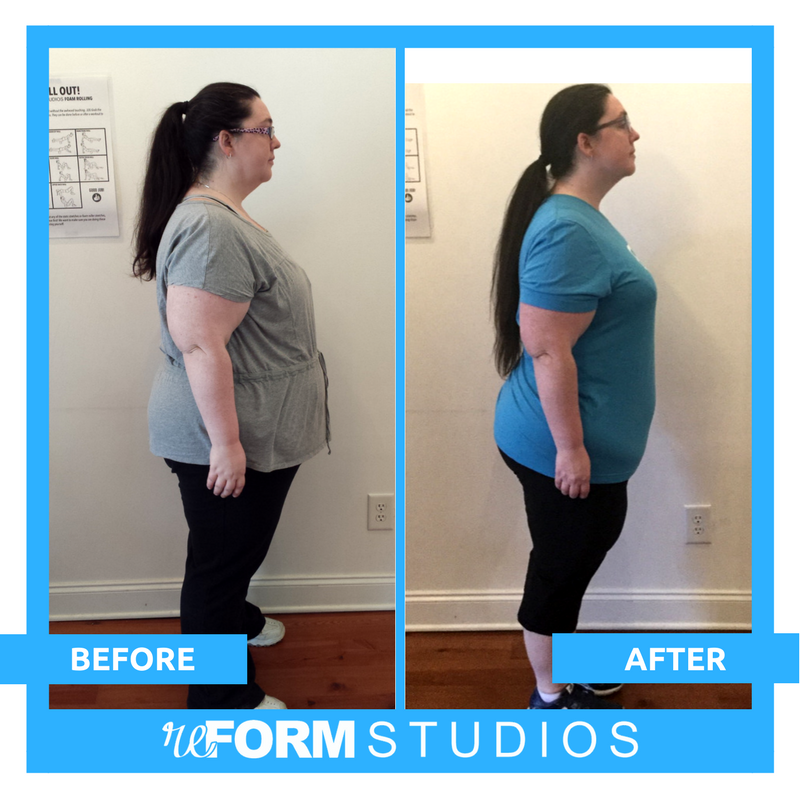 Fast forward- it's been nearly a year, and April has a lot to celebrate from her year of change! Above and beyond the numbers (she's lost over 50 lbs in about 11 months!) she's also noticing major wins in the way she feels, the decisions she makes and habits she has developed. She's feeling a lot more confident. She says though she never was on the receiving end of cruel or judgmental comments about her weight, she always believed people were thinking it even if they didn't say it. She admits she was thinking cruelly about herself and now she doesn't anymore.
And healthy eating habits? April shares "My struggle will always be food. I love it. I've been a cook since I could reach the stove and I'm not a picky eater, so all food is good food! This last weekend I really wanted potato chips, so I bought a bag. I opened them up, I ate a few, it was a new flavor and I hated it. So, I walked over and I dumped them in the trash. That may not sound like progress, but it's huge for me. Previously I would have eaten the whole bag even not liking the flavor because I just love potato chips. So just being able to take that little bit of control of the situation and apply it…huge progress for me. That has been my year though. I may make a mistake, but I've gotten much better at controlling myself."
She says what she's loved most about this past year and her experience here is the relationships, both with the trainers and also within the community. "I love seeing all the different relationships at the studio. Everyone gets personal attention, even in the small group setting. That is something I have found is unique about this studio. As I said before, I had eight personal trainers in three years and even doing one on one sessions, I still felt like for most of my trainers, I was just someone's job to deal with for 30 minutes, then that trainer was off to deal with the next client. I've never felt that way here and I can't say I've ever seen anyone treated that way either."
As for how she feels about herself now, she's really proud of becoming a reFORM Veteran! She comes almost every day the studio is open, even if she doesn't really want to be there she's kept the commitment to herself to show up and try. She also notices that she's up and outside and moving more in general, experiencing life instead of being parked in front of a TV or computer screen.
She's about to embark on her next challenge and move a few states away. She is feeling great but a little scared at leaving her studio and the schedule she's created that helped her be so successful this past year, but knows that now she has the tools to succeed and even better how to put them to use for herself.
We asked April where she'd be if she hadn't stepped through our doors last spring- "I would probably be a level 30 elf queen in an online D&D game I use to play. Yes, I use to a gamer and I quit the week after I started working out at reFORM Studios. I fear I would still be sitting at a computer and ruling the elf world with an iron fist if I hadn't made that call and met Katrina the next day. I no longer want to be an elf queen, I want to be healthy and not addicted to a silly game and computer screen."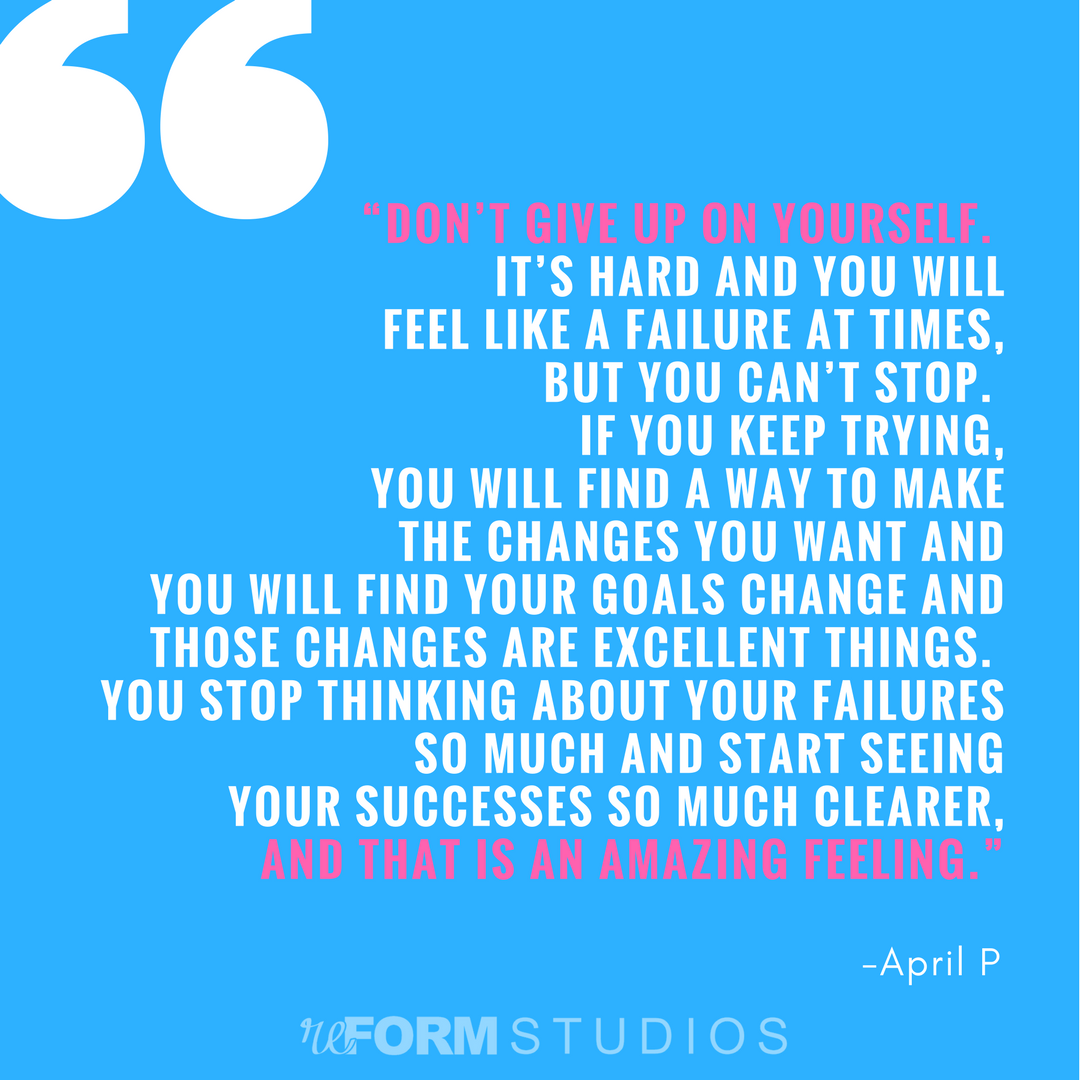 To anyone sitting back and looking at a goal that may seem daunting to even begin, April has these word of encouragement. "Don't give up on yourself. It's hard and you will feel like a failure at times, but you can't stop. If you keep trying, you WILL find a way to make the changes you want and you will find your goals change and those changes are excellent things. You stop thinking about your failures so much and start seeing your successes so much clearer, and that is an amazing feeling."
We couldn't agree more April! We're so proud of your commitment and love being part of your journey! We know you'll continue on after you move and can't wait to hear what's next for you!