Our January Member of the Month is Rebecca D from Mt.Pleasant!
Rebecca D. is a busy work from home mom who had an initial goal to lose some weight because she was having some health issues. She was very tired all the time and she was starting to be diagnosed with a lot more medical issues and suspected autoimmune diseases. She was diagnosed with fibromyalgia, PCOS, a possible thyroid condition, her blood pressure was going up, her heart rate was elevated… she was really starting to have some challenges and as much as she tried different medications from her doctors, the meds all ended up having side effects, which she felt was no real solution for what she was experiencing.
In search of a solution, she actually started doing some research on her own and realized that all of the conditions she was suffering from for the last five years, especially the most recent two really bad years, could be helped by exercising, getting fit and eating right.
So she started doing a little bit on her own, walking and biking and eating better, and saw some small progress, but she quickly got frustrated by hitting a plateau.
Then she saw her daughter-in-law Kim on our Facebook page with a great before/after progress photo during a program here in the fall, and Rebecca thought to herself 'I'm going to give it a try.'
Her initial goal was just to get over her plateau because she realized she had done as much as she could on her own and she needed someone to show her what to do differently. Rebecca says "I have never been athletic- I have no coordination! So I wasn't sure coming in what I could do, but I knew that I was held back by not knowing how to exercise or be exactly sure what to do. I really just needed someone to encourage me to be successful."
Rebecca began her program in October has been training with us a few times a week in our semi-private personal training sessions. WHen she began her program she was just walking on her own once per week. Her first goal was to lose a pants size and 5 lbs. She really wanted the health improvements, weight loss was just a bonus side effect. And she confessed that she didn't believe she would achieve that first goal because she had been stuck!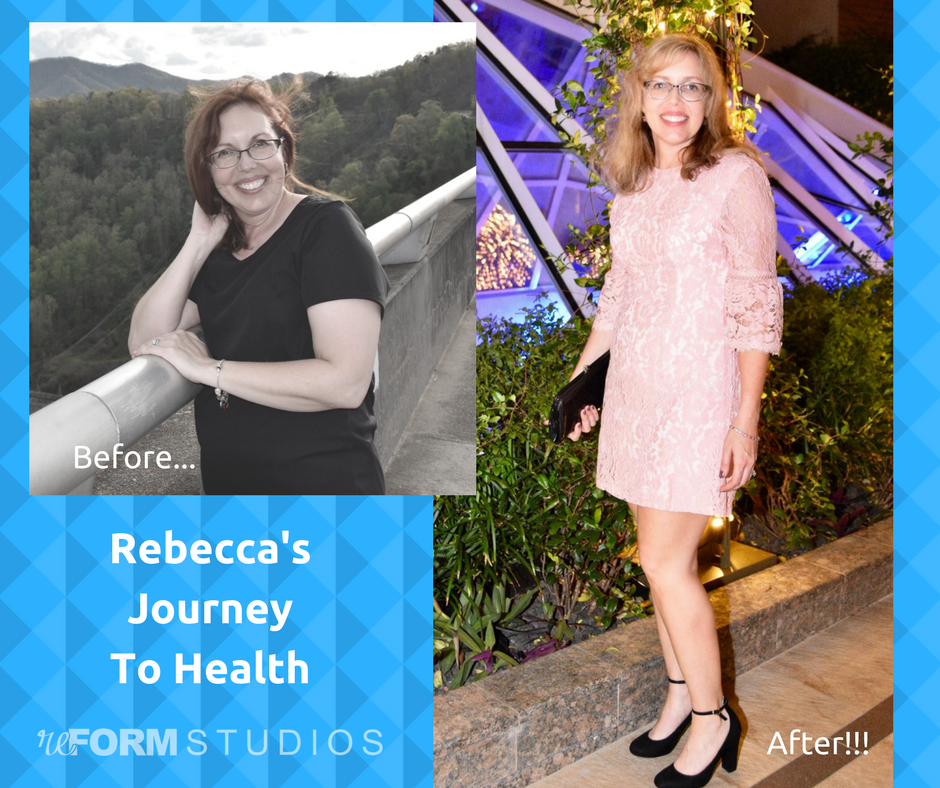 Fast-forward to today- First of all she's wearing a size 6 pants for the first time since she was in her 20s! Above and beyond that initial goal of one pants size and 5 lbs lost, she's dropped 3 sizes and continues to lose inches! She shared 'I wore all size smalls on my cruise over the holidays- I couldn't believe I could fit into that stuff!"
She says 'I don't feel old any more, I actually feel more like I did in my 20s, and I never remembered my parents being this energetic so I'm excited to have energy again."
Rebecca said she feels a hundred percent better about life now. "Now that I'm here, I keep thinking of new things I can try! I think to myself – 'I can probably do that' - like running!" She's also off all the medications she was taking to manage her fibromyalgia, she's no longer pre-diabetic or has high blood pressure. She hasn't even needed migraine medications because her exercise routine is working better to manage those.
"This has been a life-changer!"
She shared that now she feels like she has more control of her health, and she knows what to do and how eating better affects her health. She loves that she's not taking a ton of medication. She's even sort of excited about going in for her next physical this year and showing how much she's improved!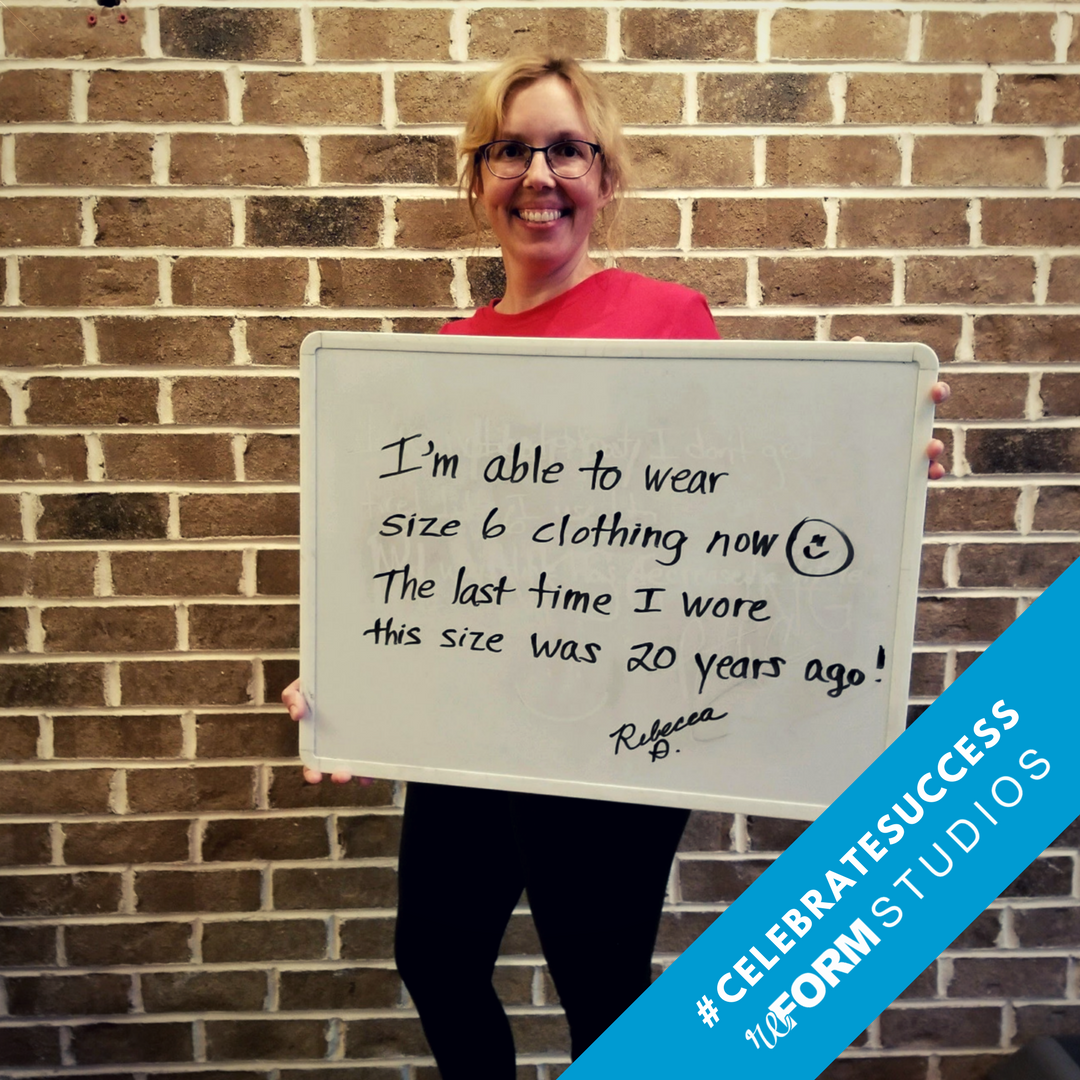 What she likes most about our program is the encouragement from the trainers- that's her favorite part. She said being encouraged that whatever you can do is fine was a real positive, and she's learning that she could do more than she originally thought.
She has discovered some self-motivation not only to show up for training sessions but also to do her part at home. She has continued to do things for her own health and not get into old excuses. She's finally come around to telling herself 'it's OK to do this for me.'
Rebecca's advice to anyone who is frustrated with health challenges, just not feeling at the greatest or not having any energy, or the extra pounds are creeping on, is really to go somewhere where people can educate you and look at both nutrition and exercise to help you make some changes. 'Our cultural tendency is to take pills as quick fix, but you don't have to. Your body has an amazing way to heal itself -you shouldn't be content with expecting that you're just going to get old and that's all there is to it."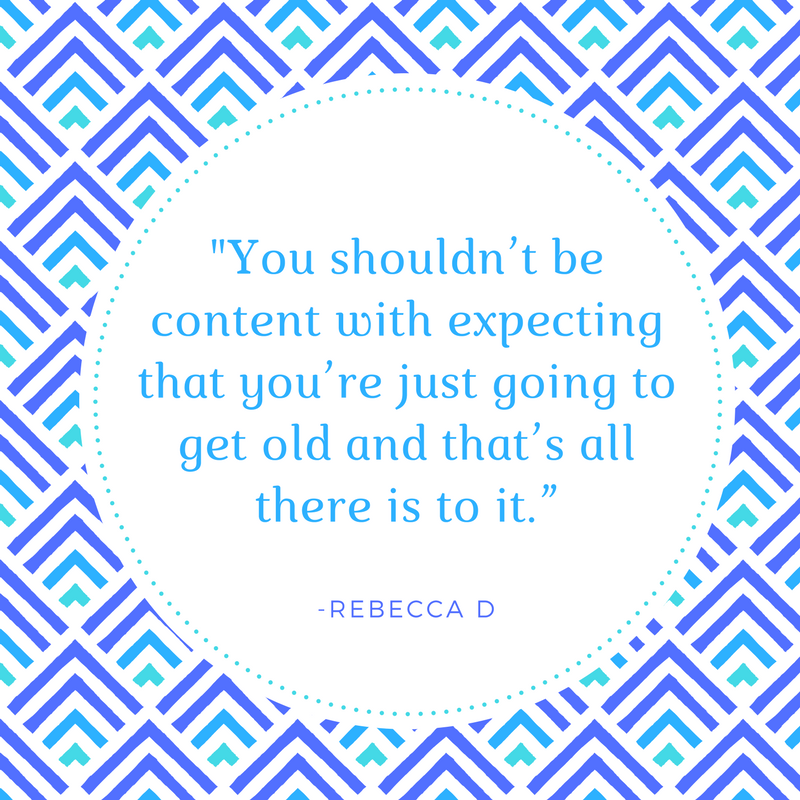 We can't agree more Rebecca! We love celebrating your new youthful energy and of course your more trim, more fit, healthier size. Congratulations on all your amazing progress and for being proactive to take your health into your own hands. We're excited to be guiding you through this process and look forward to continuing the journey with you!