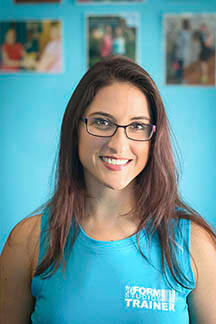 Katrina Cobb
Katrina is a certified personal trainer with the National Academy of Sports Medicine, and a former Division 1 Athlete from Clemson University. Though she played every sport she could growing up, she credits her love of fitness and strength training to the 4 years spent as a scholar-athlete competing on the Clemson Women's Rowing team. Katrina grew up as an Army brat, and continued to travel for both work, school, and pleasure into adulthood. She holds a Bachelors of Arts in Architecture from Clemson, graduating Summa Cum Laude, and later a Masters of Architecture from Texas A&M University. In addition to architectural design work, she began a direct sales business in 2007 and quickly reached the top of the company. She has lived, worked, and studied in various parts of the world, including Barcelona, Spain, upstate New York, Mexicali, Mexico, various parts of China, and most recently San Francisco. She was always more scholar than at hlete, but after a few years back in corporate America working in an office, she realized something was missing and reconnected with fitness in an effort to create a healthier lifestyle for herself. She started training with a friend, researching nutrition and personal training methods to fuel her own personal weight loss journey, and shortly thereafter trained herself to run her first half marathon. She decided the time was right in 2010 to move back to SC and make a career change, becoming a certified personal trainer and leaving the desk job behind.
Katrina has completed her third half marathon and her first mud run, won a regional dance competition in 2011 and is now training for a sprint triathlon and enjoying every minute getting to connect with clients on their own personal fitness journeys. She spent 2011 helping build another private personal training studio in Summerville before branching out to create reFORM Studios in 2012. Since that time she has built up reFORM Studios to a staff of 5 and coached hundreds of locals towards better health and fitness. She was named to the Best of Charleston list for 2 consecutive years by the Charleston City paper Voters for Best Personal Trainer and as well for reFORM Studios being Best Exercise Studio, in both 2014 + 2015.
In addition to her work as a personal trainer, she also works as a fashion consultant representing a private designer line of clothing, and has begun to use her fitness business experience to offer business coaching to other fitness entrepreneurs. In her free time she enjoys a variety of creative hobbies such as jewelry design, watching movies and reading, and riding around on sunny days in her convertible.
Personal training specialties include:
Weight loss
Sports performance
Endurance training
Flexibility and balance training
Free weight training
Functional training
Kettlebell training
TRX/ Body weight training